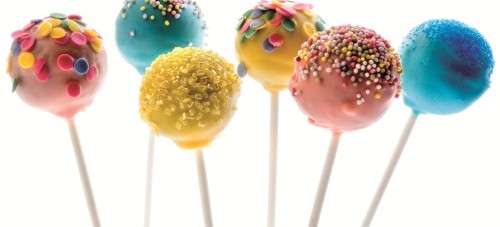 7 November, 2013 | Posted in Baking recipes @en, IBILI products | By ibili
Prepare easily and quickly 15 Cake Pops ready to be decorated and personalised for the special ocassion. Once they are baked, add your creative touch to these delicious and perfect cake balls and surprise your guests. Very easy to clean afterwards.
It is highly resistant to temperatures, of up to 260°C, can be placed in the freezer and can be cleaned in the dishwasher.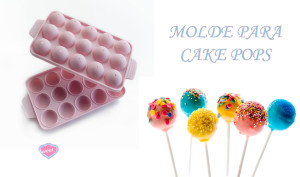 RECIPE Vanilla chocolate coated Cake Pops (25 units)
VANILLA MIXTURE
Ingredients:
• 110g flour
• ½ tsp baking powder
• ¼ tsp salt
• 60g butter at room temperature
• 110g icing sugar
• 1 tbsp vanilla extract
• 1 medium-sized egg
• 100ml milk
Preparation method:
1. Pre-heat the oven to 180°C
2. Place the butter into a bowl and add the sugar. Using an electric whisk mix the ingredients until the mixture is clear and the sugar is well blended.
3. Add the eggs one at a time beating well between each addition. Add the vanilla extract and continue beating.
4. Sift the flour, salt and baking powder, and add into the mixture together with the milk.
5. Place the mixture in a pastry bag and fill the cups of the mould with the mixture.
6. Close the mould and bake for 4-5 minutes. Then open to check that they are wellbaked.
CHOCOLATE COATING
Ingredients:
• 200g coating, dark, milk or white chocolate.
• 1 tbsp sunflower oil
Preparation method:
1. Melt the chocolate over a bain marie and add a tablespoonful of sunflower oil.
2. Pour the melted chocolate into a small deep bowl.
3. Dip the tip of a Cake Pop stick into chocolate and gently prod into the cake pop. Allow to cool and set.
4. Dip the pop into the chocolate, turning it so that it is totally coated.
5. Decorate as you wish
6. Leave in the fridge for a few minutes so that the chocolate sets.
You just need to fill one part of the mould with the cake mixture, put the top on and place it in the oven. After the allowed baking time you will end up with nice round cake pops ready to be decorated with caramel, chocolate or as you wish.
Set 10 crimpers for fondant
Set 10 crimpers for fondant
With these crimpers you will be able to decorate the edges of your cakes, biscuits, cupcakes, etc.
Very easy to use: you only have to pinch the fondant, marzipan, gum paste, etc to achieve the desired look.