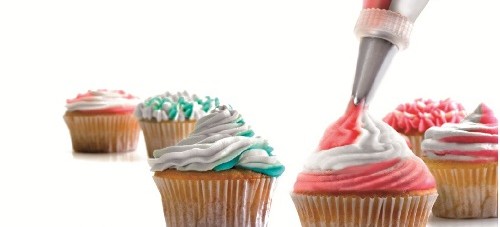 8 April, 2014 | Posted in Advices | By ibili
Do you know the advantages of flexible pastry bags?
They have soft inner surface for easier sliding of the cream and the rough outside for better grasped. Are dishwasher safe and withstand temperatures from -40 ° to +100 ° . Also ygienically guaranteed.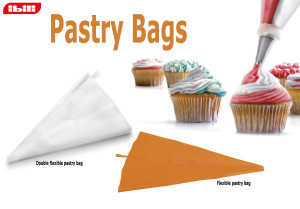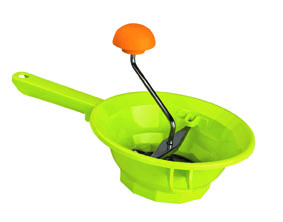 7 April, 2014 | Posted in Advices | By ibili
We want to remind you the difference between grind with food mill or with beater. If you want to cook a tomato sauce or a purée for children, keep in mind the beater does not undo tomato or pepper skins. Even the sauce can change color when crushed in a beater. Also the beater allows the air in the preparation, which does not happen with the food mill. For making jam, the food mill can achieve the ideal texture, wich is more difficult with the beater.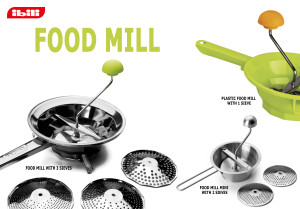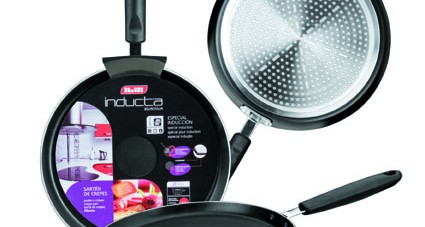 28 January, 2014 | Posted in Baking recipes @en | By ibili
We love pancakes and "weekends" are made to cook easy homemade pancakes for breakfast. This is an easy recipe by Martha Stewart  to make delicious, light, and fluffy homemade pancakes from scratch.
Prep: 5 Minutes / Total Time: 20 mins. / Serving 4
 Ingredients.
1 cup all-purpose flour, (spooned and leveled)
2 tablespoons sugar
2 teaspoons baking powder
1/2 teaspoon saltCREPES
1 cup milk
2 tablespoons unsalted butter, melted, or vegetable oil
1 large egg
1 tablespoon vegetable oil
Assorted toppings, such as butter, maple syrup, confectioners' sugar, honey, jams, preserves, sweetened whipped cream, or chocolate syrup
Elaboration.
1.Preheat oven to 200 degrees; have a baking sheet or heatproof platter ready to keep cooked pancakes warm in the oven. In a small bowl, whisk together flour, sugar, baking powder, and salt; set aside.
2.In a medium bowl, whisk together milk, butter (or oil), and egg. Add dry ingredients to milk mixture; whisk until just moistened (do not overmix; a few small lumps are fine).
3.Heat a large skillet (nonstick or cast-iron) or griddle over medium. Fold a sheet of paper towel in half, and moisten with oil; carefully rub skillet with oiled paper towel.
4.For each pancake, spoon 2 to 3 tablespoons of batter onto skillet, using the back of the spoon to spread batter into a round (you should be able to fit 2 to 3 in a large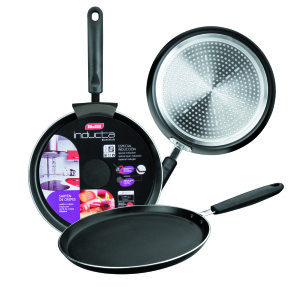 skillet).inducta crepera
5.Cook until surface of pancakes have some bubbles and a few have burst, 1 to 2 minutes. Flip carefully with a thin spatula, and cook until browned on the underside, 1 to 2 minutes more. Transfer to a baking sheet or platter; cover loosely with aluminum foil, and keep warm in oven. Continue with more oil and remaining batter. (You'll have 12 to 15 pancakes.) Serve warm, with desired toppings.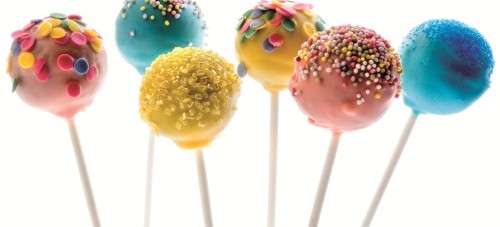 7 November, 2013 | Posted in Baking recipes @en, IBILI products | By ibili
Prepare easily and quickly 15 Cake Pops ready to be decorated and personalised for the special ocassion. Once they are baked, add your creative touch to these delicious and perfect cake balls and surprise your guests. Very easy to clean afterwards.
It is highly resistant to temperatures, of up to 260°C, can be placed in the freezer and can be cleaned in the dishwasher.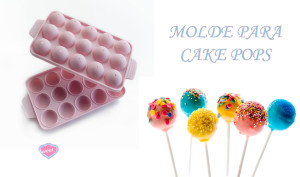 RECIPE Vanilla chocolate coated Cake Pops (25 units)
VANILLA MIXTURE
Ingredients:
• 110g flour
• ½ tsp baking powder
• ¼ tsp salt
• 60g butter at room temperature
• 110g icing sugar
• 1 tbsp vanilla extract
• 1 medium-sized egg
• 100ml milk
Preparation method:
1. Pre-heat the oven to 180°C
2. Place the butter into a bowl and add the sugar. Using an electric whisk mix the ingredients until the mixture is clear and the sugar is well blended.
3. Add the eggs one at a time beating well between each addition. Add the vanilla extract and continue beating.
4. Sift the flour, salt and baking powder, and add into the mixture together with the milk.
5. Place the mixture in a pastry bag and fill the cups of the mould with the mixture.
6. Close the mould and bake for 4-5 minutes. Then open to check that they are wellbaked.
CHOCOLATE COATING
Ingredients:
• 200g coating, dark, milk or white chocolate.
• 1 tbsp sunflower oil
Preparation method:
1. Melt the chocolate over a bain marie and add a tablespoonful of sunflower oil.
2. Pour the melted chocolate into a small deep bowl.
3. Dip the tip of a Cake Pop stick into chocolate and gently prod into the cake pop. Allow to cool and set.
4. Dip the pop into the chocolate, turning it so that it is totally coated.
5. Decorate as you wish
6. Leave in the fridge for a few minutes so that the chocolate sets.
You just need to fill one part of the mould with the cake mixture, put the top on and place it in the oven. After the allowed baking time you will end up with nice round cake pops ready to be decorated with caramel, chocolate or as you wish.
Set 10 crimpers for fondant
Set 10 crimpers for fondant
With these crimpers you will be able to decorate the edges of your cakes, biscuits, cupcakes, etc.
Very easy to use: you only have to pinch the fondant, marzipan, gum paste, etc to achieve the desired look.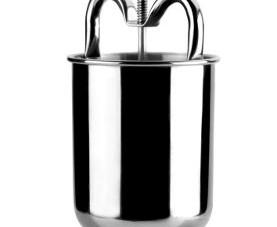 24 October, 2013 | Posted in Baking recipes @en, IBILI products | By ibili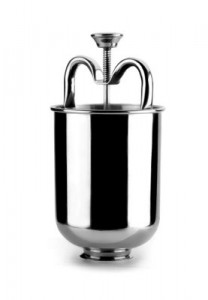 Ingredients
3 large eggs (size L)
200g sugar
200ml milk
1/2 cup of olive oil (150-175 ml)
200ml.orange juice
Grated peel of 1/2 lemon
1/2 cup of anise liquor
1 teaspoon cinnamon
700g flour
1 Royal baker's yeast packet
1 litre of frying oil
Sugar to cover the cooked doughnuts
Instructions
Break 3 eggs in a bowl. Add 200g sugar and blend well. Add milk and orange juice and continue mixing. Then add olive oil and blend well. Introduce the peel of half of a lemon, half a cup of anise liquor and a teaspoon of powdered cinnamon. Mix until well blended and sift the flour into the yeast. Then gradually add the yeast mixture, little by little while mixing. The batter should become very thin with no lumps.
Fill the doughnut maker with the batter.
Add abundant oil to a skillet and when hot, squeeze the lever of the doughnut maker. When you see that it is under the batter, release. In this way, you will introduce the necessary doughnuts in the skillet. Once they have turned golden on one side, turn them over with a fork. Place them on paper to dry and cover with sugar.
-Tip: for a more sponge-like texture, mix by hand.
This could be the result: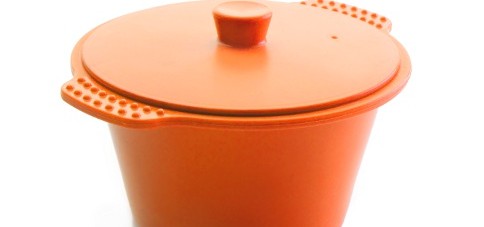 2 October, 2013 | Posted in Baking recipes @en, IBILI products, Recipes @en | By ibili
Many of you are already aware of the news that we have included in our new catalog 2013-2014. Among the products, we have a great silicone mould with lid to cook a big cream caramel pudding. With this recipe we suggest, you will cook a  yummy pudding in a very easy way. It is an IbiliMenaje design.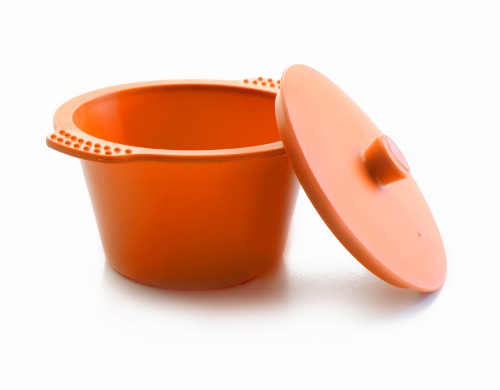 PUDDING MOULD WITH LID RECIPE
Ingredients:
6 eggs, 300gr sugar, 750 ml milk.
Preparation:
Beat the eggs well; add 200gr sugar and the milk.
Heat 100gr of sugar in a skillet until it melts and caramelizes.
Pour the caramel into a silicone mould with lid.
Next, add the sugar and milk to the egg mixture.
Cover the silicone mould with the lid.
Place the mould in a sauce pan with 3-4 inches of water and cover.
Place over medium heat (approximately 6) and wait until the pan's valve begins to whistle.
Once the valve begins to whistle, wait 6-7 minutes.
Turn off the heat and wait another 8 minutes before removing the lid.
Leave the mould with the pudding at room temperature so that it cools a bit and place in the refrigerator to cool completely.
Remove from the mould.
If you prefer cooking the pudding in the oven  in water bath, do not cover the silicone Mould with lid.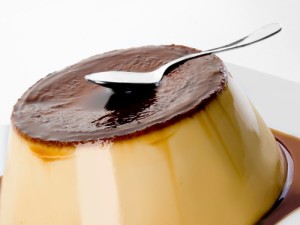 The pudding in the picture has been cooked by the Pudding Mould with Lid using  the recipe published  in this post.