8 November, 2012 | Posted in:Baking recipes @en, Recipes @en
Ingredients:
6 eggs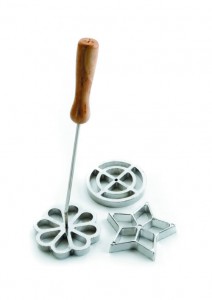 1/2 litre of water boiled with anisette (or grated lemon rind)
1/4 flour
1/4 milk (optional)
Mix everything together until a light mixture is obtained.
Place abundant sunflower oil in a deep fryer and put in the mould until it is well heated.
Take out the mould and put it into the mixture until it is 2 mm below the edge (so that afterwards the rosette is easily released). Put it back into the fryer and leave it until the rosette comes out. When they are golden, take them out of the fryer, drain them and sprinkle them with sugar.