24 October, 2013 | Posted in:Baking recipes @en, IBILI products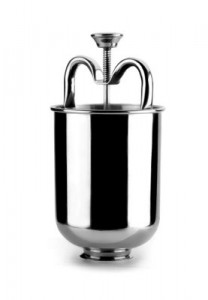 Ingredients
3 large eggs (size L)
200g sugar
200ml milk
1/2 cup of olive oil (150-175 ml)
200ml.orange juice
Grated peel of 1/2 lemon
1/2 cup of anise liquor
1 teaspoon cinnamon
700g flour
1 Royal baker's yeast packet
1 litre of frying oil
Sugar to cover the cooked doughnuts
Instructions
Break 3 eggs in a bowl. Add 200g sugar and blend well. Add milk and orange juice and continue mixing. Then add olive oil and blend well. Introduce the peel of half of a lemon, half a cup of anise liquor and a teaspoon of powdered cinnamon. Mix until well blended and sift the flour into the yeast. Then gradually add the yeast mixture, little by little while mixing. The batter should become very thin with no lumps.
Fill the doughnut maker with the batter.
Add abundant oil to a skillet and when hot, squeeze the lever of the doughnut maker. When you see that it is under the batter, release. In this way, you will introduce the necessary doughnuts in the skillet. Once they have turned golden on one side, turn them over with a fork. Place them on paper to dry and cover with sugar.
-Tip: for a more sponge-like texture, mix by hand.
This could be the result: